Now we're into the holidays, I'm stuffed with stuffing and enjoying the walk outside, greedy for the chance to enjoy the beautiful weather, bright skies and favorite places like
www.vromansbookstore.com
. It's just a stroll down the street and the doors are wide open like old friends.
There's
nothing
like a bookstore!
Vroman's has a legacy of good books and good works dating back to 1894 and several generations of employees who follow his passion for books and philanthropy. For years, this was the largest bookstore south of the Mississippi, and with programs from author signings and charity days to school book fairs, local support networks and its own program
"Vroman's Gives Back
," it's easy to see why customers are loyal and proud to be part of the reading community of Pasadena, CA. Passionate and giving, Vroman's hosts free-to-the-public literary events and charitable giving. As it says on their website, "To date, Vroman's has donated over $634,2675.55 on behalf of our customers." You can always find out the latest on their awesome
blog
.
I can't tell you how honored I am to be walking down the aisles of this store. (And surrounded by my best friends: BOOKS!)
Pictured: Me standing next to the newest display--just in time for holiday shopping!
And to spread a little more holiday cheer,
there's signed swag available to the first 7 people to purchase their copy of INVISIBLE
and I hope you browse their stores and websites for the latest great reads to stuff into your stockings or wrap after lighting the candles this year!
You can buy your swag-o-rific copy of INVISIBLE at:
Vroman's Bookstore
695 E Colorado Blvd
Pasadena, CA
(626) 449-5320
www.vromansbookstore.com
Last leg of the INVISIBLE Indie Bookstore is in sunny California, the West Coast; as far from chilly New England as I could possibly be! Okay, I'll admit I'm feeling a little homesick, but that's one of the few advantages of being invisible...it doesn't really show!


Stay tuned for the final destinations!
The last posts of the INVISIBLE Indie Book Tour have been postponed due to viral tracheal bronchitis.
Parnassus Books
! I've passed through several weather fronts on my INVISIBLE journey and nothing's quite so amazing as being able to drive in the car. I do my best thinking while driving or daydreaming (shouldn't do both!) and have my handy voice recorder & plenty of paper to scribble on as I go. It's amazing what the mind will come up with once it's set free. Appropriate, then, to be off the famed "brainchild" bookstore!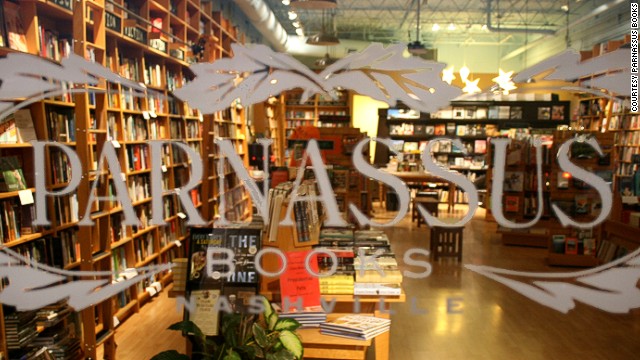 Author Ann Patchett and Karen Hayes were the hearts and minds behind the indie bookstore revival back when Nashville woke one morning to find that all of their beloved bookstores--chains and local shops--had gone. Grit and determination and a refusal to let the boogeymen doomsayers get them down, Parnassus Books is still strong and a favorite for locals and traveling authors alike! A quote from the website's "The Bookstore Strikes Back" reminds me of what Ursula K. LeGuin mentioned during her now-famous National Book Awards speech:
"Amazon doesn't get to make all the decisions; the people can make them, by choosing how and where they spend their money. If what a bookstore offers matters to you, then shop at a bookstore. If you feel that the experience of reading a book is valuable, then read a book. This is how we change the world: We grab hold of it. We change ourselves."
Parnassus isn't just a bookstore, it's a place that loves books. Whether
checking out its blog
or perusing the shelves, you can chat with knowledgeable bibliophiles who long to put just the right book in your hands including the latest bestsellers to signed stock and first editions! And, being an author myself, I feel right at home in Ann & Karen's bit of heaven.
Visit in person or online and nab your copy of INVISIBLE and remember that
the first 7 people to order get their signed sets of swag!
You can order your copy at:
Parnassuss Books
Hillsboro Plaza Shopping Center
3900 Hillsboro Pike
Nashville, TN 37215
(615) 953-2243www.parnassusbooks.net
Leaving Asheville, we're off to Nashville in the heart of Tennessee to visit
this article at io9
about the most uncanny robotic animals made to date. There were fish and jellies, cheetahs and dogs, snakes and rescue spiders and even tiny hummingbirds and flies. I had a time clicking through each and every one of them and it was hard to choose what film to feature, so I'd encourage you to click on the link and check them *all* out, but this one with the robotic kangaroo is one of my favorites!
I'm continually astounded with the limitless creative genius of the human imagination and how much of that is reflected in our love of nature, animals & the beauty of motion.
Enjoy!
Combining my love for steampunk and my fascination with minutia, I was smitten by
Malaprop's Bookstore
!
Malaprop's is *fantastic*. It is a home-grown bookstore built on passion, commitment to freedom of expression and activism with a personal touch in the community; from packing purchases in the "European tradition of craft paper and red ribbon" (now known as the "Malaprop's wrap") to donations promoting the health and wellness of its patrons, including "monetary, book, and coffee donations many area non-profit organizations, NPR and indie radio stations, homeless shelters, and fundraisers," Malaprop's is still doing what it set out to do over 30 years ago:
1. To be the best little bookstore in the land.
2. To enjoy what we do while we're doing it.
3. To be aware and supportive of financial needs and ensure that bookselling is a fine and noble profession.
So after shaking off the chill of New England and picking up something in the cafe, I am able to browse and delight in this one-of-a-kind monument to Really Good Reads in the setting of my own book, INVISIBLE. It feels weirdly wonderful to actually be in a place that inspired stories, to walk around and feel the breeze and smell the air and take in the sights that Joy might have enjoyed--to be both real and imaginary is a special sort of magic.
Being Invisible does not necessarily mean it isn't there--IT IS!
Stop on by and check out the selections of great books and if you don't know which to choose, one of the passionate booksellers is always around to point you in the right direction. And I'll be here with copies of INVISIBLE and
signed swag for the first 7 people to order, whether in-person or online!
There's no better place to enjoy winter's arrival than snug inside a bookstore curled up with a good book. Stop by, say "Hi!" and see if you can find me here in one of my favorite places to be.
Check out Malaprop's and order your copy of INVISIBLE at:
Malaprop's Bookstore/Cafe
55 Haywood Street
Asheville, NC 28801
(828) 254-6734
Snow! Gobs and gobs of it--3' of snow in upstate New York! Narrowly dodging road closures and traffic squalls, I'm thinking the one good thing about being invisible is that no one can see my hat hair when I unwrap from my layers on the road. It's been clear sailing as I go further south to North Carolina, home state of Joy Malone, Monica Reid, Gordon Weitzenhoffer and the rest of the cast of the Twixt series in the fictional town of Glendale, NC. But this time I'm going to the real local landmark in Asheville:
Gibson's Bookstore
.
Gibson's is airy, spacious and welcoming--online and off--with a collection of the latest to hit the shelves as well as old favorites that you can load up and begin flipping pages after you grab something sweet at the
True Brew Cafe
. The list of author events is impressive and I'm honored to among them...even in my less-than-visible state. I even snagged a pic!
It's hard to tell I'm smiling, but trust me--I'm smiling!
If you're lucky, you live close enough to drop on by, but if not, you can always order your copy of INVISIBLE and be one of
the first 7 people to order and get free signed swag!
Everyone here is knowledgeable and friendly, as eager to match good books to good people as you are to get the latest for your TBR pile. Thinking of the holidays? Buy great reads for your family & friends!
You can order your copy at:
Gibson's Bookstore
45 South Main Street
Concord, NH 03301
(603) 224-0562
www.gibsonsbookstore.com
And now to sit and enjoy something warm against the chill. Hot chocolate, anyone?
It's been raining, turning the streets washed rivers of silver, which is pretty to look at but sometimes challenging to drive. Rainwater changes the landscape, painting things fresh and new. Even the grey, foggy mist makes the hillsides look mystical, the trees wondrous and touches the travel roads with magic. It can easily become distracting--*ooo! look! shiny!*--but fortunately, I know the way well as I'm headed off to Concord, New Hampshire to visit
WICKED
for my birthday, this bit has been lodged in my brain including the song "Popular," my favorite earworm from the soundtrack. I've listened to a bunch of different versions and seen a number of interpretations from different actresses and this one with
Alli Mauzey
happens to be my favorite. She had a little more attitude and sass and a lot of comic energy I just loved! The video's a little blurry and a little wonky on the volume, but it's worth the watch--this scene hit all the right notes in more ways than one!
Have a *fabulous* weekend! Enjoy!
Ever since seeing
It's unseasonably warm right now in New England and I'm loving the sunshine and the late autumn breeze as I head to my next independent bookstore mecca upstate. Where else would I go but
Oblong Books & Music
?
Sunny, friendly, packed with books? Perfect!
Wonder why they call it
Oblong Books
? Their website gives the unique history of the district's border dispute "when the colonies of New York and Connecticut each conducted surveys to establish a border 20 miles from the Hudson River. The surveys, done in the late 1600s, differed by nearly two miles. Both states laid claim to this strip of land, extending through Dutchess County south to Westchester County. Because of its long, narrow shape this territory was called "The Oblong." For decades "The Oblong" was an outlaw territory where neither colony had reliable legal jurisdiction. In 1731 a treaty was signed giving "The Oblong" to New York with Connecticut gaining an equal amount of land from New York in its southwestern corner. It wasn't until 1857, however, that both states finally ratified the border agreement."
Here you can see me standing next to my own bit of history!
And mine isn't the only signed stuff you can get there. Check out their
website
for all the goodies including signed books, staff recommendations and author events happening all year 'round! This is the place for book lovers! And remember:
the first 7 people to order their copy of INVISIBLE will get signed swag!
It's the next best thing to being here.
You can visit & order your books at:
Oblong Books & Music
6422 Montgomery Street
Rhinebeck, NY 12572
(845) 876-0500
www.oblongbooks.com
I'm leaving Connecticut and off to Rhinebeck, New York to enjoying the changing leaves and a leisurely drive while trying to ignore the people staring out their windows as I pass by. (It's kind of hard to explain the floating pair of sunglasses in the driver's seat!)
I've been busy editing Book 3 of the Twixt series, but planned to take a break to do something fun for my INVISIBLE tour but then...something unexpected happened. Maybe it was a combination of Halloween, a full moon, some special ninja training and seeing
WICKED
for my birthday on the 7th, but in any event it seems I've become, well, invisible.
I'm sitting here with my book. You can see the problem...because, well, you can't.
Fortunately, this is perfect for the INVISIBLE Indie Book Tour!
What is the INVISIBLE Indie Book Tour? It's where I get to visit some of the best independent bookstores across the country to promote INVISIBLE hitting the shelves. I'm a *HUGE* fan of indies and love to Pay It Forward so whether you order online at
IndieBound
or visit your local bookavore hangout, I wanted to do something extra-special for patrons of locally-owned literature shops and drop by...which might be a little awkward given my current non-visibility, but we'll see if we can't pull it off.
I will be appearing in 7 locations across the U.S. At each stop, there will be special incentives for you to go and buy books. Basically, you purchase a copy of my book at these locations &
the first 7 people who order get signed swag.
Tune in every Monday and Wednesday this month for the next surprise appearance--for lack of a better word--and see if I've come to YOUR local indie! Stop by and get your prize and a few good books for the holiday season. And, even if you're not local, you can call in an order and have it sent to you in the comfort of your very own home. What could be better? (SWAG, that's what!)
Without further ado, I'm at my own local indie,
RJ Julia's
in Madison, Connecticut. A shore-town fixture for over 25 years, RJ Julia is committed to readers, writers and all things book-ish. They host over 350 book events every year and have an incredibly awesome staff dedicated to "putting the right book in the right hand." It's a beautiful place and I'm surrounded by some of my favorite reads here in the YA section and enjoying take a minute to sit and bask in the moment.
Can you recognize me in the picture? Oh, yeah. Probably not.
You can stop by RJ Julia's or order online at:

768 Boston Post Rd
Madison, CT 06443
(203) 245-3959
books@rjjulia.com
Check out where I'll be next on the tour on Wednesday, November 12th. I'd say look for me there--but you won't see me!
Well, hm.
Dinosaurs! A Field Trip Back in Time
and I remember it being one of those educational PBS specials that I managed to catch on TV and it *blew my mind* (which, at the time, probably wasn't much bigger than a dinosaur's). Still, it lit something inside me that became my fascination with claymation, miniatura, stop-motion films, puppetry and fantastical education, so I thought I'd share it with you. Here's part one:
Part 2 continues for a short bit
here
and the full film (starring Fred Savage!) is
here
.
Enjoy!
It's my birthday on this fine Fun Film Friday & to celebrate, I managed to dig up one of my early favorite films that turned me on to stop-motion animation and claymation, in particular. It's called